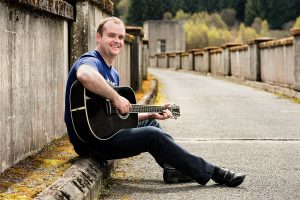 Well last year was one of my busiest on record with well over 250 gigs and 2018 is shaping up to be at least as busy!!
The year will start with myself and Stuart MacKintosh as Caman heading to the Middle East to perform at the Scots in Qatar Annual Burns Supper Ceilidh in Doha.  This is a new part of the world for us to take our music to and we are very much looking forward to it 🙂
2018 see's the 25th Anniversary of the release of my first solo album 'Keeping Folk Alive'.  I can't believe 25 years have passed since as an 11 year old I entered the recording studio for the first time.  I released 100 cassette copies way back then and this time round I will once again release 100 Limited Edition re-mastered copies on CD.  The album will also be available on iTunes.  Keep watching my page for updates and the announcement of the release date.
March will see me once again head to Belgium for my annual tour, these are gigs that I always love as I have made many friends in Flanders since my first visit almost 10 years ago.  The dates and venues will be confirmed in the coming weeks.
The start of the tourist season in Inverness will see the launch of a new venture with my good friend and fiddle player Bruce MacGregor.  From Easter through to October we will be hosting a twice weekly event in MacGregors Bar, Inverness, called the Highland Malt Whisky Experience, where our guests will enjoy the best the Highlands has to offer in Malt Whisky, music, history and craic.  Again please keep an eye on here and on my Social Media pages for updates.
The rest of the year will be taken up by my regular gigs around Inverness and Aviemore as well as visits to Mull, Oban, Annan, Durness, Thurso, Tongue, Lossiemouth, North Berwick, Helmsdale and many places in between, not to forget Caman's regular appearances on board the Royal Scotsman train during it's West Highland tours.  All of my gigs are available to view on my Giglist page.
It sounds as if I will have to hold on tight for the ride as it sure to be a fun and energy sapping year!!
All the best to you all and may 2018 be a kind one 🙂
Davy